A Documentary on the Protestant Reformation
Light Unshackled is a feature-length, on-location documentary on the Protestant Reformation. It contains stunning footage and powerful stories of the heroes of the Protestant Reformation who shaped the course of history forever. Join presenter Phil Mills, Jr., as we travel through 11 countries to share these inspiring stories. The four episodes were filmed and edited by two teenagers, Andrew & Daniel.
As we near the 501st anniversary, plan now to show this to your community on October 31!
We have 5 languages as subtitles currently available! 
 
Playlist with all episodes on YouTube
 
Episode 1: Descent into Darkness
Episode 2, Lighting a Flame

Episode 3, Fanning the Blaze

Episode 4, Passing the Torch
Trailer:
Teaser:
LightUnshackled is now available via DVD: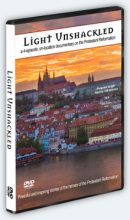 Special Sale through October, 2018!
Sign up to stay in touch.
---
Sites who would like to show Light Unshackled in their church or small group can request to host a screening.
Screenings:
Admission is free and open to the public.
Sites Listed by Location
Calendar